✔️Aussie Company ✔️45 Day Money-Back Guarantee
About

Is your underwear drawer a mess? Struggling to dig through your accessories? 

Stay organised & save time with our Drawer Organiser Blocks from Homezy!

Each set contains:


1x Wide 6-row grid for bras and larger items

1x Narrow 7-row grid for folded t-shirts, singlets etc.

1x Narrow 11-row grid for underwear, socks etc.

(The size of each block can be found in the product image gallery) 

Store everything from bras & panties to scarves & ties, keeping your drawers neat & tidy with its 3-size design. 

Plus, each cell is removable, foldable & washable that's deep enough to store thicker items & customisable to work with your unique wardrobe.

Save space

in your drawers & make getting dressed

easier

Made with long-lasting mesh that's

durable, mould-proof & antibacterial
Customisable

to organise anything you might keep in your underwear drawer

Removable cells come in

3 different sizes

to switch things up as you like

Washable

for a germ-free drawer &

quick-dry mesh

maintains its form

For when you're too busy to waste time digging through your underwear drawer…

For those who need a little extra help keeping their wardrobe tidy…

For organised parents who want to keep their kids' drawers bacteria-free…

Get ready quick & make drawer storage easier with our

Drawer Organiser Blocks!

Why buy from Homezy?

Buying online can be risky these days, especially when you're buying from overseas websites. Slow shipping, no support and it's costly to return items overseas - yuck 😔

Being an Aussie owned and operated company, not only is delivery free and faster with Australia Post, but when you buy from us, you're protected as an Australian consumer.

At Homezy, we offer daily deals on products you love, friendly support, free delivery, 45 day no-fuss returns and we're GST registered ✔️

Is Homezy an Australian company?

Homezy is proudly an Australian owned, operated and GST registered company.

Our head office is in Melbourne. We dispatch orders via a NSW based warehouse with Australia Post.

How long does delivery take?

Your order will be dispatched within 1 business day. As soon as your order is sent, we will provide you with an Australia Post tracking number.

Delivery with AusPost can take 5-10 business days to metro areas. In some cases, delivery can take up to 14 business days to remote areas.

Due to COVID19, delays and restrictions are changing every day. We would like to ask for your patience and understanding during this difficult time. 

We're doing our very best to send orders out ASAP, however there are delays and restrictions that are out of our control. We aim to be as transparent as possible with our customers, you can find more info on COVID19 here.

Can I return my item?

You sure can! If you're unhappy with your item or if you change your mind for any reason, you can return it for a refund within 45 days*

P.S. Our returns facility is in Australia, you won't ever have to return anything overseas ✔️

*You can find our full returns policy here.

How can I pay?

We accept all major credit cards, PayPal, Google Pay, Apple Pay along with interest-free 'buy now, pay later' services including AfterPay and Laybuy.

Once you enter your delivery address and confirm your delivery method, you will find each payment method at the end of checkout.
Customer Reviews
Write a Review
Ask a Question
Filter Reviews:
delivery
items
size
drawers
closet system
colors
ways
winner
Australian
business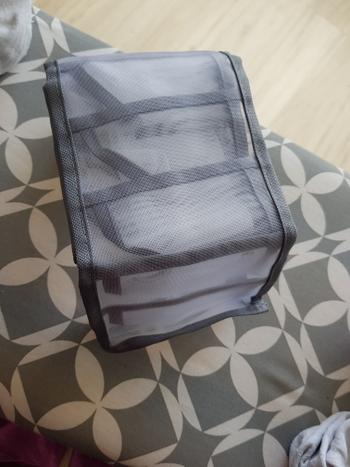 08 Jul 2021
I recommend this product
Great!
These are great quality and size for my drawers. Will be ordering more!
Teresa T.

Australia
Thanks for your feedback, Teresa. :)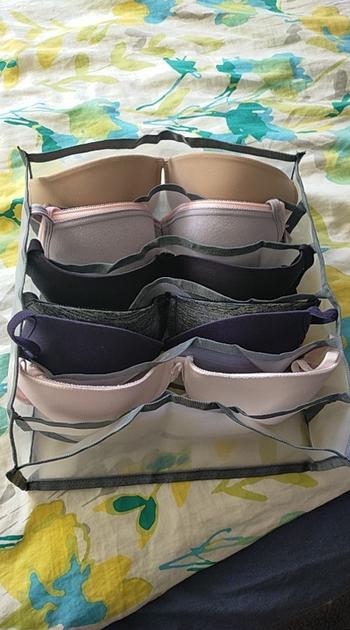 08 Jul 2021
I recommend this product
Great
These are very well made and work well in my closet system for storing smaller items. The smallest size is not something that is usable for me, but I can find other ways to use them in my house. The gray is pretty neutral. Colors would be awesome!
Kath B.

Australia
We appreciate your feedback, Kath. We will consider the colour options in the future. :)
24 Jul 2021
I recommend this product
Neat and Tidy
Delivery was prompt considering lockdown. Wasn't thrilled with the items when they arrived. Once I started using them, that's when they really shine. Very happy with the results,they allow you to fit extra items in draws and still look neat and tidy. Winner.
Sheree W.

Australia
21 Jul 2021
I recommend this product
Good Product Slow Delivery
The product is as advertised and works very well Delivery was a bit slow.
David L.

Australia
20 Jul 2021
I recommend this product
Bra organisers
Perfect fit for the drawer and they sit really well.
Chris M.

Australia
20 Jul 2021
I recommend this product
Draw organiser blocks
I love them. Now I have a tidy draw.
Maree J.

Australia
18 Jul 2021
I recommend this product
Very happy with my Drawer Organising Blocks
I'm loving the product and overall experience from ordering to delivery was very satisfactory
Jillian T.

Australia
Thank you for being our customer, Jillian. :)
18 Jul 2021
I recommend this product
Drawer organiser
I liked the small ones as they sat firmly in my draw once filled. The bigger one is a bit floppy as my bras / crop tops don't hold it out.
Suzanne C.

Australia
Thank you for your feedback, Suzanne. :)
16 Jul 2021
I recommend this product
excellent review
I just received my order and am absolutely thrilled how good the product is .I now have so much space in my drawers. I have used some organiser blocks for my microfibre cleaning cloths as well.Planning to get more.love the Australian Business
Alison C.

Australia
Hi Alison, we're glad you like it. Thank you for your feedback!
14 Jul 2021
I recommend this product
Handy product
This is great my draws look wonderful
Marcia J.

Australia
Glad to hear you love our Drawer Organiser Blocks, Marcia! Thanks for leaving your feedback. :)
14 Jul 2021
I recommend this product
Tidy drawers at last
I found these drawer organizers really useful. They worked well and it was surprising just how many items you can neatly fit into them.
Maree K.

Australia
Glad to hear that, Maree! Thanks for leaving your feedback with our Drawer Organiser Blocks. :)