✔️Aussie Company ✔️45 Day Money-Back Guarantee
About

Sick of grimy shower grout & greasy ovens? Feel like you're putting your back into it but still can't get a deep enough clean with just your hands?

Put some muscle into your cleaning routine with the Tuff Brush by Purify.

Brush heads fit ANY cordless drill for QUICK, EASY & EFFECTIVE cleaning. 

Cleans deeper

using the power of your drill

Saves time

by half & requires almost

no effort
Removes stubborn grease & grime

that you can't reach by hand

Premium nylon bristles are

long-lasting & won't scratch surfaces
Multiple brush heads to get every job done right!



For grimy showers that need a deep professional-level clean...


For an easy way to get rid of baked-on grease...

For when you're too busy to spend all day cleaning…

Quit scrubbing by hand! Use the Tuff Brush for better results, quicker cleans & a sparkling, germ-free home.

The Tuff Brush comes with 3 powerful cleaning brush heads that fit ANY cordless power drill:

1x Flat Brush (4 inches)

: Use on flat surfaces including shower doors, tiles, stovetops, bathtubs, oven doors, car tyres, upholstery & more.

1x Bullet-Shaped Brush

: Use on curved spots including sinks, corners & shower shelves.

1x Detail Brush (2 inches)

: Use for spot cleaning & detailing on fixtures including faucets.

Why buy from Homezy?

Buying online can be risky these days, especially when you're buying from overseas websites. Slow shipping, no support and it's costly to return items overseas - yuck 😔

Being an Aussie owned and operated company, not only is delivery free and faster with Australia Post, but when you buy from us, you're protected as an Australian consumer.

At Homezy, we offer daily deals on products you love, friendly support, free delivery, 45 day no-fuss returns and we're GST registered ✔️

Is Homezy an Australian company?

Homezy is proudly an Australian owned, operated and GST registered company.

Our head office is in Melbourne. We dispatch orders via a NSW based warehouse with Australia Post.

How long does delivery take?

Your order will be dispatched within 1 business day. As soon as your order is sent, we will provide you with an Australia Post tracking number.

Delivery with AusPost can take 5-10 business days to metro areas. In some cases, delivery can take up to 14 business days to remote areas.

Due to COVID19, delays and restrictions are changing every day. We would like to ask for your patience and understanding during this difficult time. 

We're doing our very best to send orders out ASAP, however there are delays and restrictions that are out of our control. We aim to be as transparent as possible with our customers, you can find more info on COVID19 here.

Can I return my item?

You sure can! If you're unhappy with your item or if you change your mind for any reason, you can return it for a refund within 45 days*

P.S. Our returns facility is in Australia, you won't ever have to return anything overseas ✔️

*You can find our full returns policy here.

How can I pay?

We accept all major credit cards, PayPal, Google Pay, Apple Pay along with interest-free 'buy now, pay later' services including AfterPay and Laybuy.

Once you enter your delivery address and confirm your delivery method, you will find each payment method at the end of checkout.
Customer Reviews
Write a Review
Ask a Question
Filter Reviews:
shower
effort
brushes
hand
drill
picture
quality
everything
corners
floor
25 Jun 2021
I recommend this product
These SAVED my shower and my tears!
I'm embarrassed to say that my shower even looked that horrible but it has been a disgusting mess since I moved in-the previous occupant didn't keep up with cleaning it and we have very hard water. I've tried EVERYTHING to get this thing clean. I've scrubbed with a heavy duty scrub daddy, a whole shelf of cleaning products, "homemade" cleaners-I MEAN EVERYTHING. I have spent HOURS trying to scrub this thing clean and all I've ended up with is disappointment (I have shed actual tears over this shower y'all). But after five minutes of letting some Comet spray sit on my shower and then using these brushes I am amazed. It saved me so much time and effort. I did enlist the help of my husband and had to change my drill battery- we desperately need a different drill- but seriously after about 30 minutes and minimal effort my shower looks stunning. I haven't used these multiple times so I can't speak to how they hold up but the first use was great. I purchased the blue set and am so pleased with how they worked. For heavily textured areas like the shower floor I highly recommend switching the direction on your drill just to make sure you get all of the nooks and crannies. If you've been sitting with these in your cart for a while like I was please bite the bullet and try them out.
Jenny B.

Australia
Hi Jenny, thank you for sharing your experience in using our Tuff Brush! :)
25 Jun 2021
I recommend this product
Works amazingly!
I wish I had purchased this years ago! Money well spent. It definitely required elbow grease to get rid of the nasty soap ****, but way less than anything else I've ever used. We have a 60 year old tub that has lost it's finish - so soap **** builds up quickly. & with 3 teenage girls - it gets nasty. This was cheap, was delivered in 2 days & is really well made. Probably my favorite Amazon purchase to date! I used "Krud Kutter" original cleaner/degreaser - also purchased on Amazon & water. (Check out before & after pics)
Amanda M.

Australia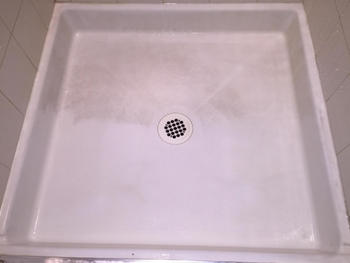 25 Jun 2021
I recommend this product
Awesome for cleaning the bathroom
These brushes are the helping hand that I didn't know I needed, but that I now wouldn't be without. They are very well made, excellent quality and should last a long time. I bought them to clean my shower glass which was very dull and felt rough, a textured cleaning sponge worked, but slow progress. They worked really well and did the work easily and quickly. The brushes are soft enough to not feel as though there is any chance of causing damage, but they cut through the grime easily, leaving a clean smooth surface. The 'dome' brush is great for pushing in to the corners, the other brushes great for larger surfaces.
Andrew N.

Australia
We're so glad that you like the Tuff Brush!
25 Jun 2021
I recommend this product
Wheels never looked so clean!
I brought this after watching car detailing videos. The main perk of it was to clean the carpets but the real shock was how good it is at cleaning alloy wheels For cleaning carpets and seats it's perfect and cleans so much better than you could ever scrub by hand and with little to no effort I did not realise the colour my alloy wheels were supposed to be until I used this. It got up so much grime and brake dust it's in real I have put up a picture of before and after one go over on my girlfriend's car. And this was taking about 30 seconds scrubbing overall. After the second time it was gleeming
Ivan O.

Australia
We love reading messages such as yours!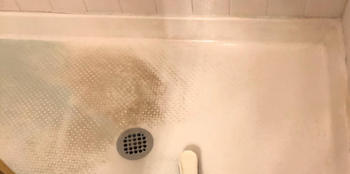 25 Jun 2021
I recommend this product
WOW!
I have NO idea why this product would ever have less than a 5 star review. It is a great brush set, I used all 3 in an effort to get some mildew stains off the grout in my shower. NOTHING worked, but a bit of soft scrub (bleach) and these brushes worked like a charm! I then used the larger brush on the floor of the shower, and to remove some soap **** from the glass shower doors. WOW! Where has this been all my life?! Excellent product, works like it should in conjunction with your power drill.
Sammy E.

Australia
Hi Sammy, we appreciate your feedback!
23 Jul 2021
I recommend this product
Homely Tuff Brush
It has worked better than i expected and I am very happy with this item.
PETER P.

Australia
23 Jul 2021
I recommend this product
Tuff Brush
This item meets all my needs. It's a great product
Jacqui N.

Australia
20 Jul 2021
I recommend this product
Have not used yet as just arrived today
Christine C.

Australia
18 Jul 2021
I recommend this product
Happy
Postage was slow but happy with product
Danielle M.

Australia
Hi Danielle, we sincerely apologise for the delay. Rest assured that we will do better to give you the best shipping and shopping experience in the future!
17 Jul 2021
I recommend this product
Saved having to buy a new bathroom!
I was told that if we couldn't get the bathroom tiles clean we would have to investigate getting a new one.. Saw this great bit of kit on Facebook moments later, and bought it. It is just AWESOME. Took me 10 minutes to clean the tiles, grout and shower screens. An excellent use of a cordless drill!
James A.

Australia
Glad to know that you have saved a lot from getting a new bathroom. :D Thank you for sharing your experience in using our Tuff Brush. :)
16 Jul 2021
I recommend this product
Tuff brushes
Very good, l have tried similar products before, these are much superior when cleaning my shower. There is less physical effort required due to the use in my battery drill. I am working closer the the problem, thus better cleaning.
Stuart B.

Australia
Hi Stuart, thank you for your feedback! We're glad you like it.
15 Jul 2021
john G.

Australia
Thank you for your feedback, John! :)
10 Jul 2021
I recommend this product
tuff
good quality, does a good job
Maurie H.

Australia
Thank you for your feedback, Maurie. :)
25 Jun 2021
I recommend this product
Wow...wish I had been cleaning like this year's earlier
I bought this on a whim because my walk in shower is just a pain to clean. I'm 51 and I guess I've just been old school with how I clean, so hand scrubbing it was for years. The FIRST time I used this to clean my shower it took 5 minutes AND it scrubbed my shower more clean than it has been in years. In the corners, the floor, the glass door,...everything came out squeaky clean. I'm NEVER cleaning my shower by hand again.
Terry C.

Australia
We're so glad that you like the Tuff Brush, Terry!
25 Jun 2021
I recommend this product
Excellent purchase-exactly as described
I'm in love with this. I manage many apartment properties and finding people to do the cleaning has been tricky business, so I end up having to get in and clean these horrendous filth pods tenants lived in and left me to deal with when they move out. The ovens and stove tops are usually the worst, and I absolutely hate cleaning. I came across this drill attachment set and let me tell you it helped me tremendously! I still had to get in with a putty knife on some of them but it really cut down my elbow grease time. I've posted some pictures for you, the dirty oven is after me attacking it with a green scrubbie for quite some time (note: the white stuff all over is heavy duty commercial grade oven gel cleaner I sprayed on it two weeks ago and still was struggling to get it clean.) and then I received the text that my package was delivered and I ran home immediately to get it and finish the job. I don't have a picture of the oven before I started but let me tell you it was nasty, one of the worst I've seen. If it wasn't for this drill attachment, I think my arms would have just fallen off trying to clean it as good as I did! My only con would be that it doesn't have any extension of any sort so I really had my drill all up in that oven, but well worth it.
Fatima V.

Australia
Thank you for sharing your honest review, Fatima! :)